Amazon have just announced the Kindle Fire HDX, a brand new tablet in two sizes, a 7-inch 1920×1200 screen and another with an 8.9-inch 2560×1600 display. The company believes this new tablet will have what it takes to build a significant presence in the tablet market and create strong competition with established brands such as Google's Nexus. As its name suggests, the Kindle Fire HDX goes beyond HD creating exceptional pixel density, perfect 100% sRGB color accuracy, reduced glare, dynamic image contrast, and improved brightness for the best viewing experience indoors or out.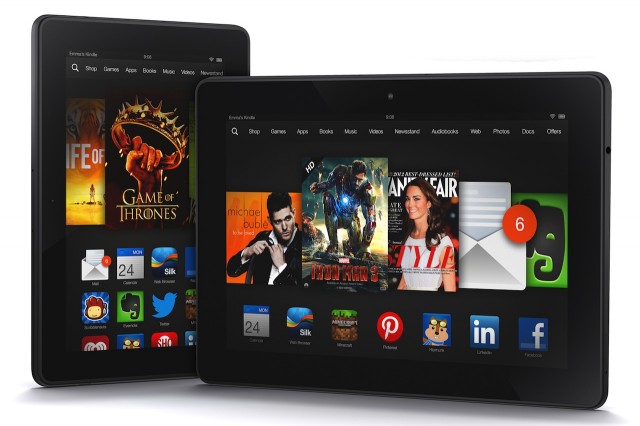 International Data Corporation calculated Amazons tablet presence in the U.S. to be 4.6% in the second quarter. Apple on the other hand has 50.7% market share with its iPad. The Kindle Fire HDX will come with rear and front facing cameras and will support 4G wireless connectivity with AT&T and Verizon networks. The HDX is also slimmer, lighter and faster than the Kindle Fire, its predecessor. As for its processor, the new tablet runs Qualcomm's Snapdragon 800, running at 2.2 GHz and provides over 3x the processing power compared to the previous generation.
It boasts a great battery life too, 17 hours reading or 11 hours mixed usage. The company also included new enterprise features such as hardware and software-encryption, Kerberos Intranet, secure Wi-Fi connections, VPN integration, and wireless printing. Overall, it seems as though this tablet is here to stay and will be very well received. One major selling point would be the new feature, Mayday. According to the company, users can "simply tap the Mayday button in Quick Settings, and an Amazon expert will appear on your Fire HDX and can co-pilot you through any feature by drawing on your screen, walking you through how to do something yourself, or doing it for you—whatever works best." This cool service has a  15 seconds or less response time goal and available 24 hours, 7 days a week, 365 days a year. Even better, its free.
Jeff Bezos, CEO of Amazon spoke of the new feature, saying "When beta users discover and use this feature, their jaws hit the table, they are not expecting to have a tech support person appear on their screen, and once that happens they are not expecting the tech support person to actually draw on their screen."
The Kindle Fire HDX starts at $229 for the 7 inch version and $379 for the 8.9 inch tablet. Both tablets have also a 4G option which comes at a price of an additional $100.